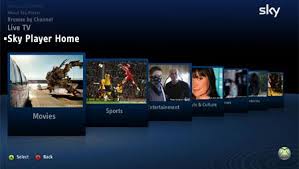 For those residing in Europe and addicted to the Sky Player on Xbox LIVE, you've got another reason to consider picking up Xbox Kinect in November: hands-free television.  Microsoft announced this week that SkyTV is joining the likes of Netflix, Zune Video and ESPN 3 (in applicable regions) in receiving Kinect functionality.
"Selecting a favourite show, changing live channels, or easily scrolling forward and back through on-demand content is all made possible by a simple wave of a hand."
The future! Gamers will be able to access the service's 32 live TV channels, as well as over 100 on-demand programs with their voices, too. Sky Player of course requires a subscription/account separate from Xbox LIVE Gold (which increases in price this fall) to enjoy.
Kinect drops in Europe on November 10th, and will be accompanies by a new dashboard overhaul.

409 Hits