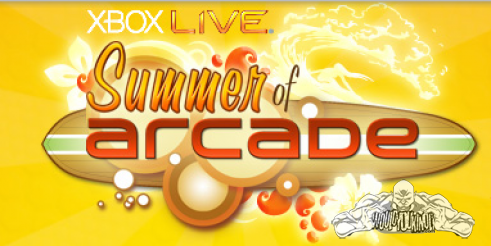 Yep, that's the deal, buy all of the summer of arcade titles before August 31st and they will refund you 800 MS points. Although it does say giveaway so does that mean you might get 800 points refunded? Also be sure to keep in mind the official rules state it can take 4-6 weeks to get your 800 points.
I say they should have made all the summer of arcade 800 MS points and give us an 800 point refund. Sounds like a much better deal to me. Anyone remember the days of 400 and 800 MS point games? I know I sure do, kind of miss those days.
Press Release below.
Its summer time and Xbox LIVE Arcade is starting to heat up. In an effort to cool down, we're shedding points…800 points to be exact. All you have to do is purchase all five Summer of Arcade titles below between July 22 and August 31 and you'll receive 800 Microsoft Points on us! It's that easy…

Purchase your games prior to 11:59 pm ET on August 31, and 800 Microsoft Points will be added back into your account. To participate in the Microsoft Points giveaway, you must be a resident of the U.S. For the full Terms and Conditions, please visit www.xbox.com/summerofarcade.

Last year, Xbox LIVE Arcade marked a new era of quality downloadable games during the first annual Summer of Arcade program. This year Xbox LIVE Arcade is at it again! Play original Xbox 360 exclusives like the award-winning "Shadow Complex," fresh and fun games like "Splosion Man," remade classics like "Teenage Mutant Ninja Turtles: Turtles in Time Re-Shelled" and get your heart racing with "Trials HD," nominated for GameSpy's Best Downloadable Game of E3 award.
92 Hits