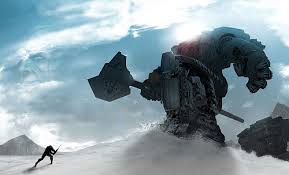 Though they're embroiled in an ongoing lawsuit with Epic Games, Eternal Darkness developer Silicon Knights says despite Xbox 360′s long-in-development sci-fi RPG Too Human underwhelming in 2008, they are going to complete the two remaining installments of the trilogy, as originally intended.
Silicon Knights boss Denis Dyack spoke with IndustryGamers, saying, "We intend to finish the trilogy but no comment beyond that...You know, there's very public litigation around that."
That was Dyack referring to the legal drama over the Unreal Engine 3, which they licensed for Too Human after its eventual move from PS1, to GameCube, and finally to Xbox 360 as an exclusive franchise. SK and Epic are scheduled to go to court in the coming months, so it's unlikely we'll hear anything further on the subject, or Too Human II and III, until that matter is settled. There's also the fact that SK is currently working on Activision's X-Men: Destiny, too.
Asked back in 2009 about whether or not Microsoft had any intention of seeing the trilogy through, then-corporate VP of LIVE John Schapert said, "We don't have anything to announce with respect to Silicon Knights or Too Human right now."
198 Hits