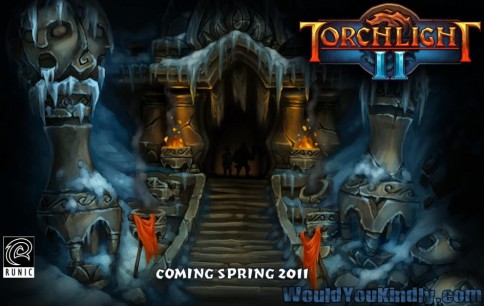 Torchlight was a smash success earlier this year on Xbox LIVE Arcade, and developer Runic Games is busily trying finish the anticipated sequel. But it won't be coming to Microsoft's console as originally hoped. Not right away, anyway.
Runic says they've encountered a problem with XBLA memory limit, which they apparently "explode", and to get the dungeon crawler on the console would require a "comprehensive redesign".
Speaking with Eurogamer, CEO Max Schaefer says, "With Torchlight 2 there is a little more complication as far as just being able to do a straight port, as we did with Torchlight 1. In all likelihood, if Torchlight 2 gets to the Xbox it would be probably fairly comprehensively redesigned."
"We would have to be redoing the interface for a console release anyway, just like we did with Torchlight 1, so it would probably make sense to do something more specifically tailored to the Xbox. We managed to shoehorn Torchlight 1 in there but just barely."
Schaefer also points to frame rate issues in crowded areas as another problem, due to the lack of memory.
When Torchlight II hits sometime later this year (a window it's still on track for), it'll be only on PC; a Mac port is then in the pipeline immediately after. Whether the sequel may jump to PSN — which the first game did not — remains to be seen. Ditto for Steam.
As for Xbox 360, Schaefer says Runic "would absolutely consider" a potential disc release at retail, which would also remedy any restriction imposed by XBLA's 2GB file size cap, but nothing has been decided. Later on twitter, the studio added that "apparently even in disc [form] it exceeds Xbox memory loads," and the game "would still need a redesign."
Bring on the Xbox Next.

298 Hits