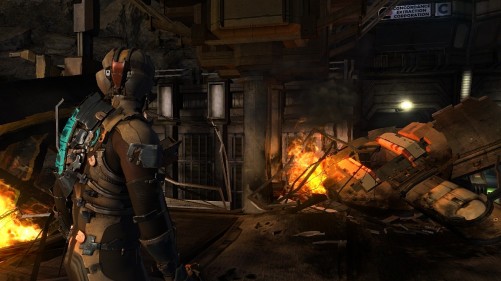 Among the numerous tweaks it brought along to nearly every area of design, one of Dead Space 2's main upgrades was giving main character Issac Clarke a voice, letting the space miner haunted by horrific visions become a realized protagonist, rather than a player vessel who didn't react to anything.
Dead Space 3 is on the horizon, whether EA feels like confirming that or not, and it's sounding like quite a different experience than its two predecessors. According to a fresh leak of purported story info, Issac's character is receiving yet another jolt.
Siliconera, who broke news of DS3's apparent environment switch up, claims to have knowledge of a new twist in the sequel: a secondary personality coming into the picture, dubbed "Shadow Issac".
As always, beware: potentially major spoilers ahead. All set? Good. Per the site:
"Isaac has a split personality in Dead Space 3 and "Shadow Isaac" taunts Isaac every chance he gets. For example, Shadow Isaac calls Isaac an idiot after he falls into a tunnel late in the game. Isaac complains this rescue mission isn't his mission and the shadow retorts and tells Isaac he turns his back on the wrong things. Isaac shouts to the shadow to shut up, who replies to Isaac by saying he's making all of the noise. Dead Space 3 is going to have this kind of banter – a sarcastic shadow and Isaac crossing tongues. Players will be able to see the shadow as a separate on screen character.
 Isaac (and his shadow) will come in contact with a "marker" on the frozen world in Dead Space 3 too…"
That… could be interesting to see play out. Obviously EA and Visceral games have not yet announced Dead Space 3, or confirmed the leaked details, but they've not debunked them either.

793 Hits