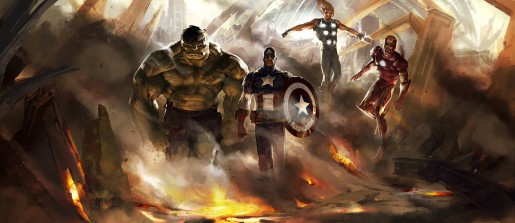 Disney/Marvel never announced it, and there's been no official indication that a game was or still is actually in the works, but word has it THQ were working on a tie-in to May 2012's The Avengers movie. Whether it was directly based on the upcoming film, or merely serving as a licensed companion isn't known. The company already developed and published kid-friendly Super Hero Squad and its sequel The Infinity Gauntlet in recent years, so far their only Marvel efforts.
Amidst THQ's lay-offs and studio closures last month it was reported that shuttered THQ Australia, which specialized in various license-based titles, was the team tasked with the job (or at least the team that pitched a concept), but the project was apparently canceled for unknown reasons. This weekend we've got what appears to be the first, brief glimpse at The Avengers: The Video Game.
A former senior animator at the publisher's closed Aussie studio posted an animation reel on Vimeo, showing in-game character models of Thor, Hawkeye and Captain America — each seeming to be a mix of the new movie designs, as well as Marvel's Ultimates — in addition to a couple of Skrull enemies, the latter being pummeled by the God of Thunder. The video has since been removed by Marvel.
Meanwhile a German illustrator revealed a piece of concept art depicting Thor, Hulk, Captain America and Iron Man, sharing a similar visual approach, for "an Avengers game pitch a few months back". It's not said if this was on behalf of THQ, or Marvel.
Additionally the LinkedIn profiles of a former in-house audio consultant, and a former QA tester also corroborate THQ's involvement with the game. The latter specifically notes "The Avengers (Cancelled – PS3, Xbox 360 & PC) ".
Currently no word on if this Avengers project got very far, or if it has been moved to another developer/publisher.
[Update]: Nearly a month after this story first surfaced, Kotaku was tipped to actual in-game footage of The Avengers: The Game, before THQ stepped in and yanked the videos. First-person Iron Man action? Sold.
THQ Brisbane and Blue Tongue — both now closed — were working on the multiplatform title, and it had reportedly been fully underway for over 18 months at the time cancelation. Screencaps of the trailers have been added to the gallery below.
11,101 Hits