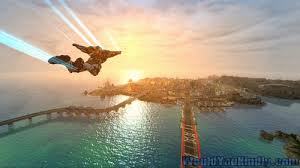 …And five dollars says one of them is probably Crackdown 3. The start-up studio that tackled Microsoft's long-awaited Crackdown sequel in 2010 is staffing up in the new year, and has revealed they're hard at work on "a couple of new games," with a need for gameplay engineers aplenty.
"Since completing Ruffian's first born, Crackdown 2, we've now moved onto a couple of new games," the Scotland-based studio says. "Rather boringly as is the case for most nascent projects we're unable to talk about them in any detail right now. What we can say is they're really exciting, high action, visceral titles that are heavily focused on online. Which could be a lot of games to be honest."
Indeed, they could be "a lot of games". But one has to be Crackdown 3, right? Probably. We hope, anyway. It's no secret that Crackdown 2 wasn't exactly given enough time to bake, created in just over a year, and with a fleshed out studio and proper amounts of time on their hands, another shot at the crime-fighting sandbox series would be perfect. Assuming Microsoft hasn't decided to abandon it.
Ruffian has hinted in the past that Kinect has potential for future Crackdown titles, relegated to mini-games, so who knows what could be in store. Maybe they'll tackle a Kinect-only game next.

278 Hits