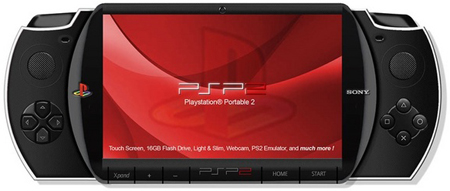 If you've been thinking about picking up a PlayStation Portable or PSPgo, now that the device is a bit cheaper, it might be wise to search for a deal. A new report from Kotaku's sources claims that Sony's worst-kept secret, the PSP 2, is coming next fall.
We already know that multiple developers have seen and are working on software for the next-gen handheld, and word is that Sony showed off the PSP 2 to partners back in September in Tokyo. As was previously rumored, the reports of rear touch controls have been corroborated, apparently being reminiscent of a "big mouse trackpad."
The innards of the PSP 2 are still unknown, but the screen — something that needs attention, as Sony are now up against the super hi-res iPhone 4/iPad, and the 3DS — is reportedly an inch larger than the current device's display, and higher definition.
The sources indicate that hardware is still not yet finalized, and that "Sony is having problems balancing battery, power and heat" — all of which will naturally be addressed long before it comes to market. No confirmation of any of the rumors at this time, but PSP 2 is allegedly on tap for fall 2011, a date that has reared its head more than once over the last year, along with claims of a substantial launch line-up.

106 Hits