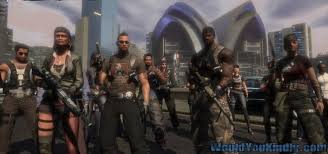 These may very well be the last days of Crackdown and APB developer, Realtime Worlds. The 8-year old Dundee studio laid-off undisclosed numbers of staff last week, pretty much gutted the team working on their next effort, Project: MyWorld, and have now gone into administration. Visions of Free Radical Design's unfortunate demise in 2008 come to mind.
Develop reports that RTW is now in the hands of Begbies Traynor Group and are awaiting an investor before an unspecified deadline, else they will be forced to close up shop sending employees out into the marketplace. Roughly 170 employees are said to have been laid-off.
All Points Bulletin, the recent MMO, is said to have crippled the company, requiring tens of thousands of dollars to develop, failing to result in positive end results. Alleged ex-staffers have placed the blame on the subscription model, to sever QA setbacks, to the endless delays and more. APB's fate in unclear, but the rumors that RTW were looking to sell it off to another company will likely prove true, says Develop. Who that potential new publisher would be is anyone's guess. RTW has pledged support of the MMO going forward, though.
Likewise, Project: MyWorld is claimed by former staff to be basically dead in the water, without a publisher and the majority of the designers that created it.

108 Hits