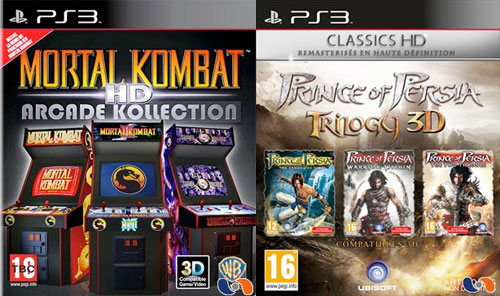 All we need at this point is for Ubisoft and Warner Bros. to drop the "It's official, go pre-order" line about two compilations coming this fall, because we know they're real. Rumored for months, the Prince of Persia Trilogy and Mortal Kombat HD Arcade Kollection have now had their quite legit looking box arts leaked (via JeuxVideo).
The former includes Prince of Persia: The Sands of Time, Warrior Within and The Two Thrones, all remastered in high-definition with trophies, and (sadly) 3D support. From the looks of it, this might very well be a PS3-exclusive product, since it's labeled under Sony's "Classics HD" line, of which the God of War, Sly Cooper and Team ICO collections also fall.
The latter brings together the old school arcade games Mortal Kombat, Mortal Kombat II and Ultimate Mortal Kombat III, as well as a demo for 2011′s Mortal Kombat reboot. This collection also supports 3D, per the cover art.
So far nothing has been confirmed or denied by either publisher, but hopefully they get around to it before these are sitting in stores this November. Ubisoft also reportedly is prepping a similar collection for Splinter Cell as well.

405 Hits