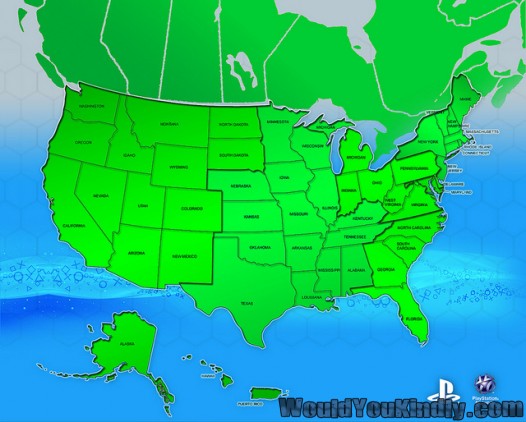 They did it! Cheers and hurrahs for everyone at Sony, folks. After almost a full month, the totally re-fortified and more secure PlayStation Network is now on its way to being fully active again.
After a few delays in their relaunch plan, Sony pushed out the newest mandatory PS3 firmware update today — version 3.61 — which "strongly recommends" users to reset their account passwords, and has begun the phased restoration of PSN and Qriocity.
This phased roll out is making its way across the globe on a country-by-country basis "beginning in the Americas, Europe, Australia, New Zealand, and Middle East", with partial service returning to the majority of North America and parts of Europe as of this posting. "Phased restoration in Japan and other Asian countries and regions will be announced in due course."
"It will take several hours to restore PSN throughout the entire country, so please keep checking back for the latest updates," says the company.
As a reminder about the system update itself:  "If using a PS3, your password can only be changed on your own PS3 (or a PS3 on which your PSN account was activated), as an added layer of security. If you have never downloaded any content using your account on the system, an email will be sent to the registered sign-in ID (email address) associated with your account when you first attempt to sign-in to PSN. This e-mail will contain a link that will enable you to change your password. In this email, click on the link and follow the instructions to change your password. Once you have changed your password you can sign-in to your account using your new password."
Once PSN is restored in your area, you'll find the following "first phase" services are available to access, as previously reported, with the plan to have everything back by the end of May.
– Sign-in for PlayStation®Network and Qriocity services, including the resetting of passwords
– Restoration of online game-play across PS3 and PSP
– Playback rental video content, if within rental period, of PlayStation Network Video Delivery Service on PS3, PSP and MediaGo
– Music Unlimited powered by Qriocity, for current subscribers, on PS3 and PC
– Access to 3rd party services such as Netflix, Hulu, Vudu and MLB.tv
–  'Friends' category on PS3, including Friends List, Chat Functionality, Trophy Comparison, etc
– PlayStation Home
Further, Sony Online Entertainment has also confirmed that their game services — which were also shut down, after being subjected to infiltration in April — are beginning to restart. The same phased launch plan is in place, and includes the return of "nearly all of SOE's portfolio of online games, the reinstatement of SOE's game forums and websites, and added functionality to require players to reset their passwords."
Sony says that full details of the "Welcome Back" make-good program will arrive in the very near future, so stay tuned for news on that.
175 Hits