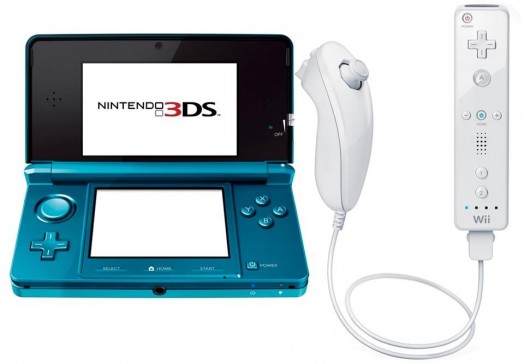 So you've just picked up that pricey new 3DS, and you're probaby wondering "Hey, where are all the new games, Nintendo?" After all, we were promised to be spared the typical months-long dry spell following a hardware launch. Or maybe you're staring at your Wii and saying the same thing. What's the publisher got up its sleeves to get you through the coming months, before they drop bombs at E3? Now we know.
Nintendo has dated all of the major upcoming first and third-party titles for both the Wii and 3DS, as well as the regular DS, through the end of June. Of notable mention are The Legend of Zelda: Ocarina of Time 3D, slotted in or June 19th, Dead or Alive: Dimensions in May, and a Wii Play sequel called Wii Play: Motion, on June 13th.
Sadly, still no word on when Zelda: Skyword Sword is coming, so it's pretty much confirmed that will be out later this year, and getting attention at E3. Gaze upon the full line-up below.
[Update]: Via Nintendo's official website for the game, Starfox 64 3D is now confirmed to launch — in Japan, at least — on July 14th. When will it come Stateside? Since it's not listed below, chances are a North American/European date might be announced at E3.
But before you do, perhaps it's worth pointing your attention toward a new rumor making the rounds, which claims the Wii will be getting a $50 price cut next month. Engadget has heard from a "trusted source" that Nintendo's planning the issue the cut on or before May 15th, dropping the Wii to $149.99 — possibly with a bundled copy of Mario Kart Wii.  If true, this may be very well be a pre-E3 announcement, saving space at the company's press conference for bigger things. This would be only the second price reduction the console has seen since November 2006.
—
Nintendo Wii
Transformers: Dark of the Moon Stealth Force Edition – June 14
Get Fit with Mel B – Spring
LEGO Pirates of the Caribbean: The Video Game – May
Karaoke Revolution Glee: Volume 2 – Spring
ExerBeat – April 26
Wii Play: Motion – June 13
Mystery Case Files: Dust to Dust – June 27
Thor: God of Thunder – May 3
The Conduit 2 – April 12
Green Lantern: Rise of the Manhunters – June 7
Nintendo DS
Transformers: Dark of the Moon AUTOBOTS – June 14
Transformers: Dark of the Moon DECEPTICONS – June 14
Duke Nukem: Critical Mass – Q2
LEGO Pirates of the Caribbean: The Video Game – May
Cars 2: The Video Game – Summer
Yu-Gi-Oh! 5D's World Championship 2011 – May 10
s & Claws Pampered Pets 2™ – April 12
LEGO Battles: Ninjago – Spring
Green Lantern: Rise of the Manhunters – June 7
Nintendo 3DS
Transformers: Dark of the Moon Stealth Force Edition 3D – June 14
BlazBlue: Continuum Shift II – May 24
Cartoon Network Punch Time Explosion – May 24
Dream Trigger 3D – April
LEGO Pirates of the Caribbean: The Video Game – May
DualPenSports – May
PAC-MAN & Galaga DIMENSIONS – June
The Legend of Zelda: Ocarina of Time 3D – June 19
Cave Story 3D – June 28
DEAD OR ALIVE Dimensions – May
Driver Renegade – Spring
Green Lantern: Rise of the Manhunters – June 7

173 Hits