For those who platinumed the Sly Collection, you were teased to a fourth game for the Playstation exclusive franchise. It's been about 16 months since the collection released and finally we get our first bit of information. Thieves in Time's developers, Sanzaru Games, are probably fans of Assassin's Creed as you'll see in my breakdown of the information and media released thus far.
Simply to start off with, Thieves in Time is going to be coming out this year in North America for probably just the PS3 (no PS4 rumor because it isn't coming out any time soon and nothing has been said for the Vita). The Cooper clan's past is being changed by someone so it's Sly's duty to save the families reputation across time in different continents. Going into different times and regions, you'll be able to play as Sly and his ancestors.
As to what Murray and Bently will do for the game, we just don't know yet. Of course, Murray the hippo and Bentley the turtle will return because, retirement is never forever when it comes to video game characters. At the end of Sly Cooper 3, Bently started working on a time machine which was a perfect setup for the mash-up between Sly Cooper and Ubisoft's "Assassin's Creed" franchise.
A change from the franchise, Sanzaru says they are going to use more realistic physics instead of letting the world be too cartoonie as the previous titles that were developed by Sucker Punch. As the 3D craze is still continuing, you'll be able to play the game in 3D if you are interested in doing so. Delivering the similar humor as before, Sanzaru promises to bring a new experience and story that will remind platforming fans why they enjoyed the first trilogy in the first place. Below, you'll see a background image of the official game splashpage.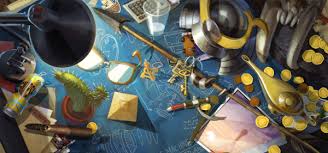 As previously mentioned, Bently was working on a time machine at the end of Sly Cooper 3 as part of his 'retirement'. In the image above, you can see a blueprint on the desk underneath a bunch of objects. Those objects being: a pyramid, a protractor, a golden lamp, an ancient Chinese helmet, Nordic style bones and teeth, an iron-head arrow, a pirate ship, a toy car, a key chain connected to a sculpture of the Eiffel Tower, a file, and cigar that revolves around El Jefe. The objects on the desk are from all across time, so obviously the time machine worked.
The pyramid and lamp make us believe that we'll probably be visiting ancient Egypt. The protractor and pirate ship, will probably set us up for a 1600′s conflict on the east coast of America. The helmet ties back to feudal Japan. The Nordic helmet will make us believe that Sly will possibly be visiting an early Northern European ancestor. And, the arrow will be used by the the mid-evil English ancestor. I'm unsure of what the toy car will bring, as it has more of a modern 1930′s build.
The main hint here is for a character named El Jefe. The name seemed to pop up in my head immediately, but it was shocking to find out he hadn't been in any of the previous games according to Wikia. What is known about the game boss, is that he'll be voiced by Nolan North and he could be involved with the plot of the whole game, but I won't go into details that could spoil any part of the story. Until we get more information, that's all I got for you other than that the expected release date is in the Fall.
159 Hits