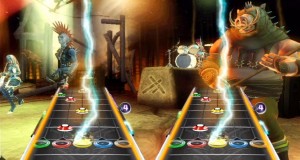 Despite reports to the contrary from MTV Games, the music game genre is severely down in the sales department, claims Guitar Hero developer, Neversoft. Speaking earlier this year on the subject, Rock Band's publisher said that "What has happened is that people now have the plastic peripherals in their homes. … Most people have their instruments and they are only looking to buy the software. Music games are still significant in the marketplace – they're the number two genre behind shooters."
In an interview with MCV this week, the Guitar Hero studio says otherwise.
"Sales across the board were lower last year," says Neversoft's project director Brian Bright. "Our rival [MTV/Harmonix] might sugercoat it but I won't. Sales are down for software and for peripherals. We put out a load of games last year, and even when you add them all together they didn't do better than [Guitar Hero] World Tour."
Going on to address the immensely over exploited Hero franchise, which was drastically reduced to just two entries this year (GH: Warriors of Rock and DJ Hero 2), he adds, "I think [the franchise] did lose its identity. The first three Guitar Hero games had very strong ties to rock 'n' roll, but I think with World Tour and 5 we just tried to please everybody. And in the end I think we ended up not pleasing anybody. We put more into [Warriors of Rock] to give Guitar Hero its life back."
"There are 16 million Guitar Hero players and nine million that are enthusiasts. We are aiming Warriors of Rock at them. We are making a game that Guitar Hero fans will like."
Guitar Hero: Warriors of Rock is due this September; DJ Hero 2 drops in October. Employee resumes have indicated that Band Hero 2 and 3, and Guitar Hero 7 are already in production, and leaks have outed interest in Queen and Red Hot Chili Peppers spin-offs.

411 Hits