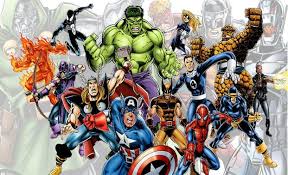 Could we be nearing an official Marvel Super Heroes Secret Wars game from Marvel, or a sequel to an existing property that deals with the fan-favorite story arc? After all, both "The Infinity Gauntlet" and "Civil War" series have made their way into the fabric of other games in recent years. Plus, Captain America, Thor, and The Avengers are on the way, in addition to another Iron Man. That's a good chunk of the crossover characters already.
The comics giant filed a new trademark just last week (via Siliconera) seemingly for a future product, applying it to a range of computer and videogame products, including the following:
"Computer game cartridges; Computer game discs; Computer game programmes downloadable via the Internet; Computer game programs; Computer game software; Computer game software downloadable from a global computer network; Downloadable computer game programs; Downloadable computer game software via a global computer network and wireless devices; Downloadable computer programs featuring positionable game piece figures for use in the field of computer games; Interactive multimedia computer game program; Interactive video game programs; Interactive video games of virtual reality comprised of computer hardware for use with an external monitor and software; Pre-recorded CDs, video tapes, laser disks and DVDs featuring music and/or live action programs or motion pictures or animated cartoons or animated feature length films; Sunglasses; Video game cartridges; Video game discs; Video game software."
So that tells us …absolutely nothing of substance. But it's exciting. As Siliconera notes, Marvel/Activision could possibly be thinking of including or referencing the Secret Wars in a new Marvel Ultimate Alliance, which is likely due to receive a follow-up in the near future; Activision is on a Marvel kick in 2011 with a new Spider-Man and X-Men title.
But there's also the possibility, however, that a dedicated Secret Wars game could be on the way. Maybe a fighter? Action-adventure? That's more wishful thinking than anything, probably, but crazier things have happened. Hey, those 14 leaked Spider-Man titles from 2008 have still yet to materialize.

571 Hits