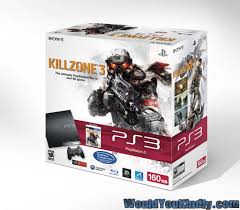 And so it is. That leaked Limited Edition PS3 Killzone 3 Bundle is real, Sony has announced to no surprises, and it's coming on launch day — next Tuesday. For $299.99 you'll get a 160GB PS3 Slim, and a standard copy of 3D and Move-compatible Killzone 3.
This massive package joins the Killzone 3 Helghast Edition as another pricey way to score Guerrilla's sequel, as well as yet another option to get into the SOCOM 4 multiplayer beta, which will sit nicely on those 160 GeeBees if you pop for the console.
No word yet on the similar MotorStorm: Apocalypse bundle, but expect details soon.

410 Hits