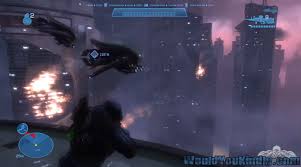 I got the Banshees, Fast And Low Achievement easily on chapter 8 (New Alexandria) without a jetpack, but it can be done on chapter 5 (Tip of the Spear) if you feel like using a jetpack and chasing banshees around. At the beginning of the mission wait for the banshees to fly close enough to the landing pad then hit LB to sprint and jump off the edge, hit X when you're fairly close and you'll easily hijack a banshee.
Other Halo Reach Achievements:
If They Came to Hear Me Beg Achievement.
Two Corpses In One Grave Achievement.

1,716 Hits