The Force Unleashed II further alters Star Wars canon next month, and an in-depth preview full of brand new details and footage comes your way during this week's GameTrailers TV.
Get a look at some of the new locales you'll be exploring like Kamino, the Rebel ship Salvation, and Cato Neimoidia, as well as how the new and improved combat systems and Force powers will help Starkiller kick Imperial ass. Also, Boba Fett and Yoda. 'Nuff said.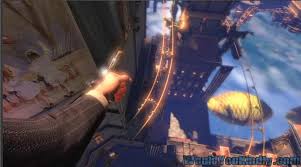 LucasArts' continuing adventures of Darth Vader's apprentice might be the focus of this episode, but Irrational Games managed to sneak in a little peek at the first in-game action of BioShock Infinite, coming in 2012.
The footage kicks in around the 14:00 mark, and is just a small glimpse; the full, 10-minute gameplay demonstration will go live exclusively on Xbox.com and Xbox LIVE on September 21st. Alternatively, if the player isn't working, Infinite's segment is below.
187 Hits