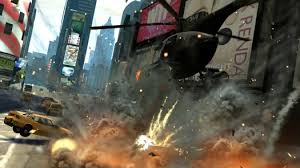 Despite Grand Theft Auto IV's massive success since early 2008 — selling nearly 20 million copies as of this past March — Rockstar's most recent, record-breaking entry of their controversial franchise was still trumped by last-gen's GTA: San Andreas, which sat at a cool 21.5 million units. That's no longer the case, though.
Take-Two confirmed in an investor call this week that GTA IV has now shipped 22 million units, overtaking the ambitious 2004 juggernaut, and at the same time, sending the Grand Theft Auto franchise's lifetime numbers past the 114 million unit mark. Not bad for a property a mere 14 years old, eh?
Other Rockstar series lifetime sales include Midnight Club at 18.5 million (apparently another sequel might not happen); Red Dead Redemption at 12.5 million (Red Dead Revolution as already been rumored); and Max Payne at 7.5 million (Max Payne 3 revives this dormant series next March). Curiously, lifetime sales for L.A. Noire weren't noted.
Rockstar certainly has an abundence of profitable and popular IP, but it's GTA that's still arguably their star performer. With the next entry most likely coming before too long, it'll be interesting to see how much further it can expand.

332 Hits