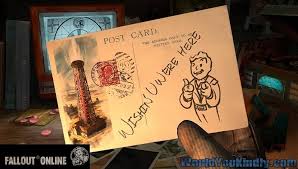 '"Not all heroes of the wasteland are armed to the teeth; some come bearing gifts, possibly even fruit…" Leading up to the eventual beta test for Fallout Online, Interplay have rolled out the second batch of viral newsletter goodies for gamers who registered on the MMO's website earlier this year.
A mysterious stranger named Les provided us with some intelligence on a path he was scouting in July, and now we're being contacted about The Church of Harold. Founded by Alders Blahblahwanna Rubra, and Yaddayadda Glutinosa, the organization is devoted to Harold, "Seer of the Unseen, Knower of the Unknown, Adulterator of the Unadaulterated."
"Unlike other religions, we promise nothing. But, unlike others, we backup our promises!" reads the pamphlet The Armageddon Rag. "Our mission, stemming from the Union of Pant and Numen, is to Rebuild the world, one Twig at a time."
An interesting read, the full booklet is. Check it out below.
587 Hits