[amtap amazon:asin=B002BXKJA0]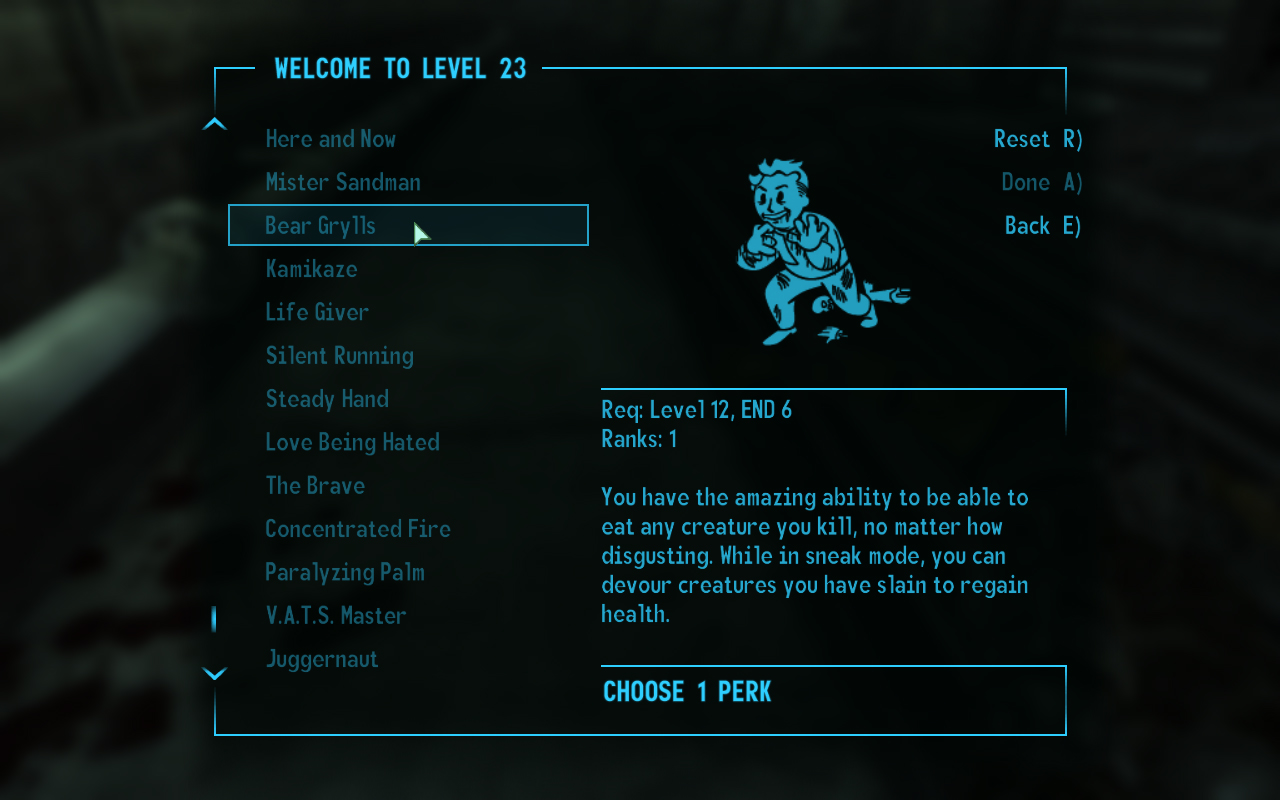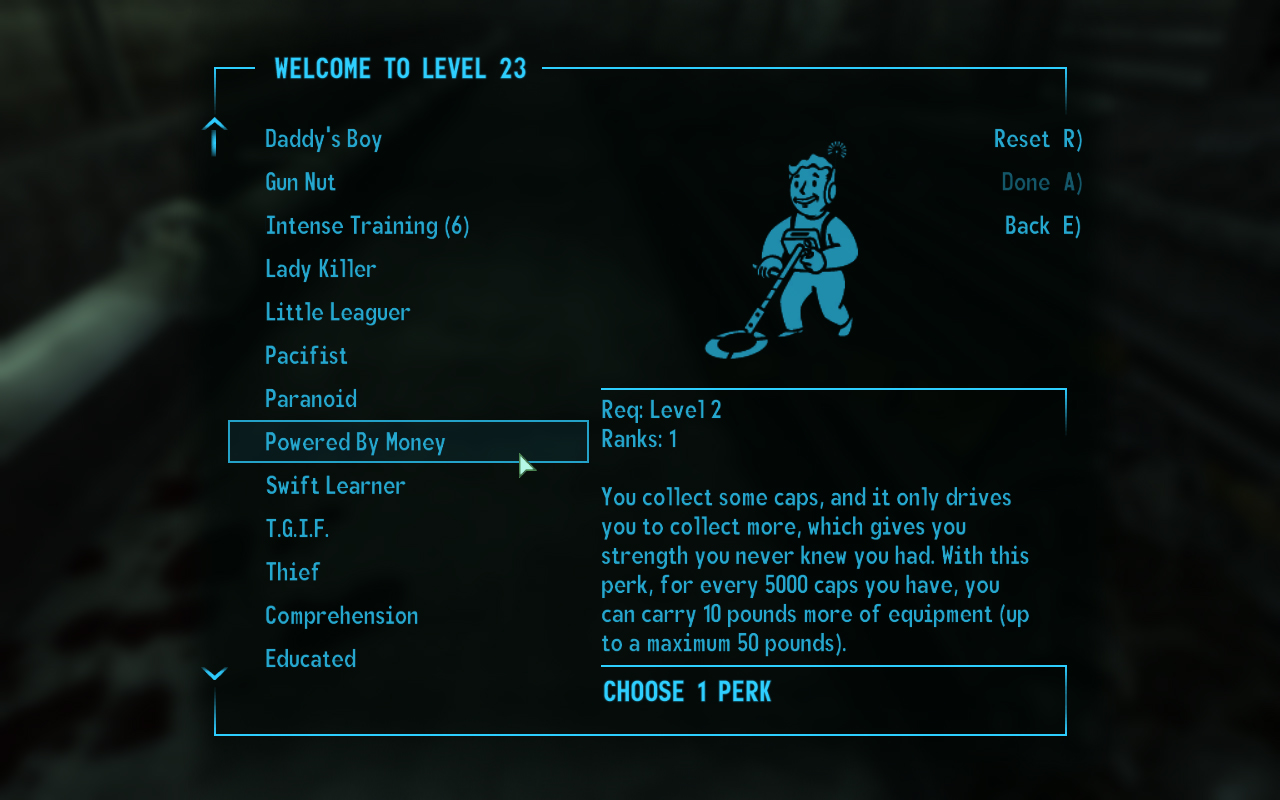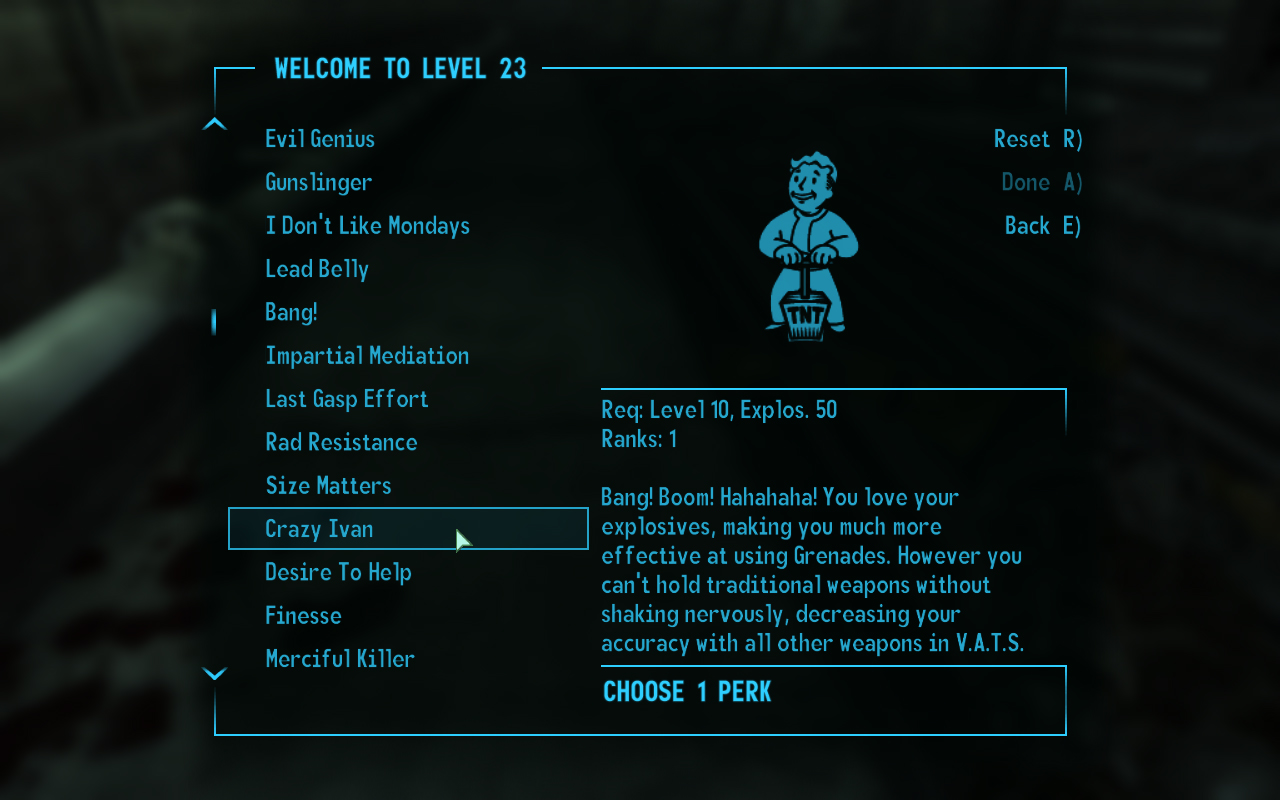 Just so everyone is clear I did not create these mods and am in no way trying to take any credit for them. I'm just the person sending you in the right direction to find them.

This is a must have mod for Fallout 3. It adds some amazing perks to the list and will be very useful once the level cap is raised. Or you can just download a mod and raise the level cap yourself like I did.

Credit goes to TheFakeEmpire

Hit the Jump to read more…



Anyways here is a short list of some of the Perks included:


Fishboy/girl
Requires
-Level 2
Thanks to the radiation of the Wasteland, you have developed gills that allow you to breathe underwater. As a result of this, you also receive 25% less radiation when drinking from an irradiated water source.

Nimble
Requires:
-Level 2
-Agility 6
-Strength less than 5
With this perk, you gain 25 AP as a result of your small and maneuverable frame, but yet you cannot carry nearly as much.
–Note: Reduce carry weight by 50

Pacifist (3 Ranks)
Requires:
-Level 2
You detest conflict in all its forms, instead reveling in the intellectually stimulating and peaceful solutions. Your combat skills decrease by 10, but your non-combat skills increase by 10.
–Note: Explosives is not decreased, due to a limitation of the G.E.C.K.

Paranoid
Requires:
-Level 2
You are extremely anxious of those around you, and are constantly on the look-out. As a result, you have greatly increased perception, but your fear results in decreased AP.
–Note: AP -15, PER +2

Powered By Money
Requires:
-Level 2
You collect some caps, and it only drives you to collect more, which gives you strength you never knew you had. With this perk, for every 5000 caps you have, you can carry 10 pounds more of equipment (up to a maximum 50 pounds).

T.G.I.F.
Requires:
-Level 2
Thank God It's Friday. You love Fridays, and feel so much more free on them. With this perk, you gain +15% EXP and 15 AP on Fridays.

Grognak's Disciple (3 Ranks)
Requires:
-Level 4
-Strength 5
You are becoming more and more like the legendary Barbarian. With each rank you gain 5 points of damage to your melee attacks.

Polar Existence
– Level 4
People either love you or hate you. With this perk, peoples' reactions to you will be more extreme, one way or the other.

Evil Genius
Requires:
-Level 6
-Intelligence 6
-Science 50
With this perk, while you maintain an Evil or Very Evil Karma level, you gain 30% more experience points.

I Don't Like Mondays
Requires:
-Level 6
Mondays make you angry. With this perk, you can unleash that anger- you gain +50% critical chance on Mondays.

Tough Motherfucker
Requires:
-Level 6
-Strength 6
-Endurance 6
You are one tough motherfucker. With this perk you gain a point each to both endurance and strength, and enemies are 25% less likely to critically hit you. However, chems have no effect on you.

Worth The Wait
Requires:
-Level 6
-Luck exactly 5
Your critical hits don't happen often, but when they do it's certainly worth the wait. Your chance to critically hit is halved, but they deal twice as much damage (sneak attack criticals are not affected).

You can download the Ultimate Perk Pack here.


3,064 Hits