From the second they made the announcement about Ouya's existence, the crew behind this tiny console has been doing things a little differently and grabbing a lot of attention. If you've been out of the loop, the Ouya is a cloud-based gaming console that'll cost around $100 (for the console and one controller) and plays Android-based games. They got their initial funding from Kickstarter, raking in a whopping $8.5 million, after setting an initial goal of $950,000. Obviously the demand is there; but will the console be any good?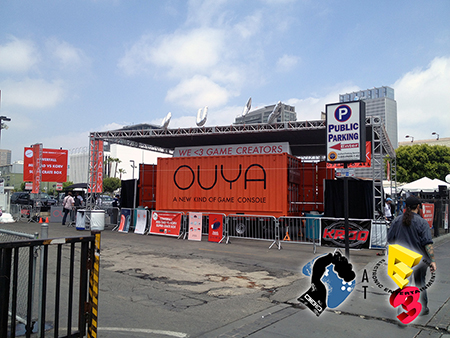 The big thing here is that all the games offered on Ouya must be free to play; that is, the base game must be free. (It's worth noting that he developers are allowed to add on DLC that can cost money.) From what I saw at "Ouya Park" set up directly across the street from the South Hall at E3, the little box has enjoyed a pretty positive reception. The park was made up of a trailer that contained five different stations, each showing off a different game, a couple booths showing off non-game apps and serving beverages, and a food truck serving up some decent eats.
I didn't actually get any hands-on time with the Ouya; due to the fact that Ouya Park was open to everyone, not just E3 attendees, all of the stations were crowded up. I did get a chance to peek over some shoulders while other folks were playing, and I was pretty impressed with the games that were being shown. The console itself is miniscule; looks to be about a 3 by 3 inch cube that will easily fit wherever you want to put it by the TV. A cord for power and an AV cable running to the TV was all that came out of it; it's simple and sleek in its design, which I dig.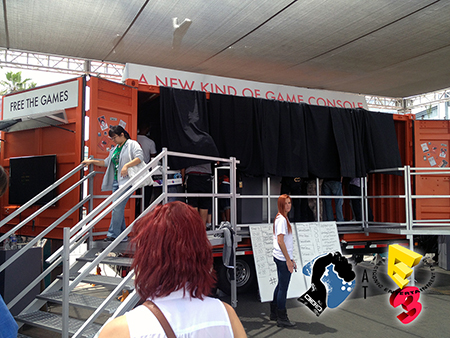 This almost seems like the home console counterpart to nVidia's Shield, as they essentially pull games from the same library. The library has only a handful of true gems, but with things like Ouya and Shield creating more opportunities for developers to get their games in front of faces, I can see that library expanding very quickly. It'll be interesting to see more opinions of the console as it moves from finishing up sending out Kickstarter preorders to hitting the general market later this year.

214 Hits