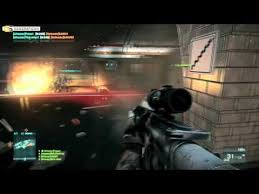 Over the last few years, more and more major multiplayer games have included a code that rewards gamers who buy the game new, by allowing free access to multiplayer; renters and used-copy buyers else has to pay a separate fee. EA and DICE seem to be keen on making sure gamers purchase their game brand new with a statement released on GamerZines.com.
To be straight to point with you all: executive producer Patrick Bach has said Battlefield 3 players will probably have to register a code included along with new copies of Battlefield 3 to gain access to the multiplayer component. Being a clever business man, Patrick followed up by saying, "I don't think it's an online pass, I think it's our own back-end. I'm not sure I want to call our system an online pass."
To clear this up, they don't want to call it an online multiplayer pass because they don't want to scare consumers to purchase Activision's Modern Warfare 3 instead of Battlefield 3, but the fact of the matter is that this pass that comes with new versions of the game is indeed an online pass. And EA are no stranger to this practice.
Bach clarified with this statement when he was asked if this pass will require used game consumers to purchase a pass in order to gain access to multiplayer modes: "I think we are (requiring gamers to purchase an online pass for multiplayer)." EA is known to be conservative with the amount of servers they have open for their games, and Battlefield 3 will not be an exception to this rule.
Game developers and publishers have simply said that used game sales effect the amount of content they are allowed to put out. This last statement from Bach perfectly wraps up what this online pass is all about: "Hopefully people understand why. It's not to punish people. To us, it's compensation."
Battlefield 3 will release on October 24th in North America and October 28th internationally for the PlayStation 3, Xbox 360 and PC. There is a rumored port to be coming to the Wii U when the console releases later in 2012.

536 Hits