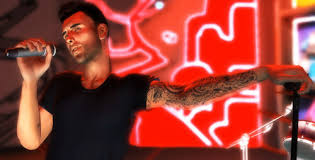 The allegedly unauthorized use of musician avatar likeness, on tracks other their own, in Band Hero has gotten Activision sued by a handful of people so far. That, in addition to other Hero franchise claims about false patents, and a dispute over select music in Guitar Hero III.
Now yet another party is joining the legal fray. After being sued Courtney Love (over Kurt Cobain), No Doubt and even Axl Rose, Maroon 5's Adam Levine now says he too approved his likeness for use in 2009's Band Hero, but was unaware that players could also play as his character in other artists' songs.
According to The Wrap: "Levine allowed [Activision] to use the Maroon 5 song "She Will Be Loved" for the game, and performed the song for motion-capture so his avatar could be created. However, unbeknownst to Levine, Band Hero includes a new feature that allows users to make him sing more than 60 other songs by other musicians, which "would not have been chosen by him for recordings or performances."
If there's one thing all of these suits have in common, it's that Activision, apparently, is terrible at disclosing things to celebrities. Perhaps that's why the last Guitar Hero went back to using the 'original' characters from older titles.
The suit further claims "Activision sought permission from other artists for the expanded use and, to add insult to injury, paid other artists a higher fee than [Levine] received to participate in the game."
Levine's claims include fraudulent inducement, breach of contract, violation of the common-law right of publicity, and unfair business acts or practices; he is seeking unspecified monetary damages.
There's not been any comment from Activision at this time.

308 Hits