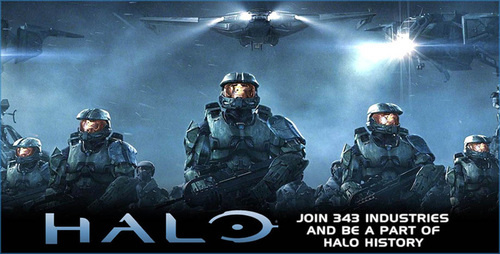 Microsoft's internal Halo studio, 343 Industries, has been staffing up for some time, building a solid team to help create the next experiences in the franchise once the development reins are handed over from Bungie, following the launch of Halo: Reach in September. After that, it's up to the new blood — including the likes of Gearbox's Corrinne Yu, Kojima Production's Ryan Payton, and even Bungie's Frank O'Connor — to tackle what's next. Probably Halo 4 for the next Xbox, and maybe Halo Wars 2.
Job listings have quietly been posted over the last year on Microsoft's careers site, but this week they rolled out a dedicated page promoting the studio, and inciting fan speculation the web over.
"343 Industries is forging the future of Halo, expanding and building upon one of the most important and successful franchises in gaming history. Halo is a rich and exciting universe that encompasses AAA video games, New York Times best-selling novels, world-class animation and much, much more. Just you wait. 343 is set to revolutionize gaming and entertainment by putting the industry's fiercest talent in one room and diving for cover. Come be part of the awesome."
Positions being sought range from character and environment artists, to mission designers, and software development engineers. Basically the whole kitchen sink, in terms of necessary folks. Nice to see they're actually getting to work on things. Bring the rain, guys.

56 Hits