Originally released in 1984, Tetris has come to capture the heart and minds of millions of people worldwide. It's a game that is not only fun, but easily accessible to anyone who picks it up; so it's no wonder as to why it has stood the test of time.  It should also be no surprise to find out that Tetris has a die-hard community of competitive players. On Sunday October 16th, Southern California saw some of the best Tetris players in the country meet in Los Angeles for the 2nd Annual Tetris World Championship.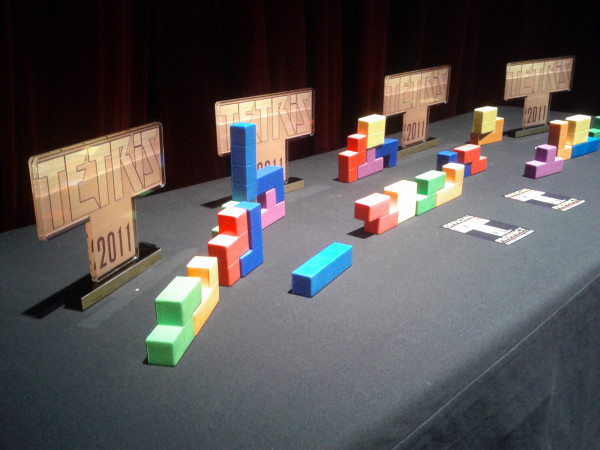 This year's tournament was held in the Bovard Auditorium of the University of Southern California. It was an all-day event open to the public with admission only costing $10. The admission included one qualifying attempt and admission to the theater for the live championship rounds. There were three separate championships on the line. The first was the NES championship that saw players compete on an original Nintendo Entertainment System. The second and third were for solo and team championships played on the Playstation 3.
The qualifying attempts began at 10am and not surprisingly there was a long line of people waiting outside for their turn. The qualifiers were held on the second floor of the auditorium with only a certain number of people being let in at a time. The room was filled with NES systems and PS3's. Players were seated and–depending on which championship they were after–had different tasks to accomplish. One of the fun things about the qualifiers was that as a spectator you were allowed to walk around and observe the players as they attempted to make it to the top 8.
While the qualifiers were going on there was a completely different tournament being held just outside the auditorium. This was for a new board game called Tetris Link. I didn't get a chance to try it out myself but it looked fun. Prizes were given out to competitors that ranged from a copy of the board game to cash.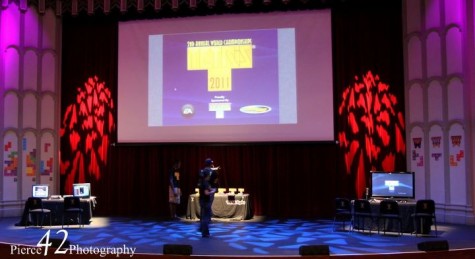 Once the top 8 for each category were determined, the tournament was  moved to the auditorium where spectators and players alike were able to take seats and watch the tournament on a giant screen.  Before the tournament could begin, everyone in the theater was greeted with an unexpected surprise. Even though he couldn't be there personally, Alexey Pajitnov–the creator of Tetris–had recorded a message for everyone in attendance to see.
This is where my only problem with the event comes in. The semi-finals for the NES and solo PS3 championships were held at the exact same time on the same stage, and to make things worse each championship had a different commentator. This made it overwhelming to spectators because they could easily lose track of what was going on. It also made it easy for spectators to miss vital turning points of a championship since they constantly had to go back and forth between both of them.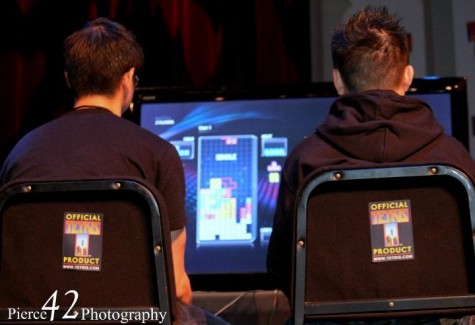 I firmly believe that the semi-finals would have been more appealing had each one been held separately.  On top of not having to split your attention between both championships, it would have helped the commentators to shine. Having commentators during the semi-finals was definitely a great idea, but because of the confusing circumstances you found yourself not really paying much attention to them. Despite this drawback, the Tetris World Championship was still a fun event to attend.
This year's champions are:
NES Champion:  Jonas Neubauer (2nd year in a row)
PSN Solo Champion: John Tran
PSN Team Champions:  Team Hard Drop (John Tran and Roger Teng)
Tetris Link Board Game Champion: Daniel Anderson
I look forward to seeing all of you defend your championships at next year's event!  And if anyone reading this happens to find themselves in the LA area next year while the tournament is taking place, you should definitely consider checking it out.
(Thanks to Chris Bennett at Pierce 42 Photography for the photos!)

369 Hits