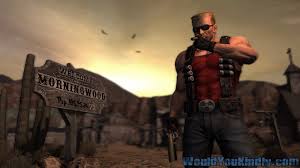 The wait is finally over. Bubblegum shall be chewed, and asses shall be kicked in mere months. 2K and Gearbox announced today that Duke Nukem Forever is shipping to North America on Xbox 360, PS3 and PC May 3rd. Other regions will have the 'roided up badass on May 6th.
A few pieces of media made it out alongside the news, including the above screenshot, and the in-game trailer shown to attendees of last September's Penny Arcade Expo.
"The moment fans all over the world have been waiting for is almost here," declared Christoph Hartmann, president of 2K. "May 3, 2011 marks Duke's return as he unleashes his brash and brutally honest wit on the world. His return is going to be epic and one that will make video gaming history!"
A demo for DNF will be made available before launch, and owners of the Borderlands Game of the Year Edition will be granted early access. Further details on the game are expected in the coming weeks and months.
67 Hits